Introducing Gina Goff, the newest member of our Personal Training and Exercise Specialist team.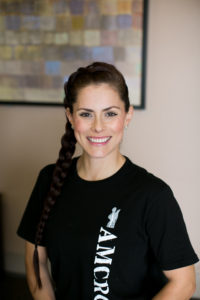 I am Gina Goff (''GG"), a fitness professional focused on helping people reach their fitness goals. I was born and raised in Colombia and I have been living in the US since 2007. Learning English was the first challenge that I faced when I moved from my country. But, I managed to further my education in the U.S. and received:
Certified Personal Trainer – NASM
Corrective Exercises Specialist – NASM
Women's Fitness Specialist – NASM
Fitness Nutrition Specialist – NASM
Precision Nutrition Level 1 Certified in Exercise Nutrition
Certified Personal Trainer – MiraCosta College
A.A. in Health, Nutrition, & Kinesiology – MiraCosta College
First Aid CPR AED – American Red Cross
Bachelor's Degree in Spanish – California State University of San Marcos
I believe that I was born to inspire and guide people not only to have a healthy and balanced lifestyle but also to help them believe in themselves and in what they are capable of. Many people are afraid to move out of their comfort zone and some lack of self-confidence, which makes their fitness goals very challenging. By getting out of your comfort zone and by facing your fears, you will be able to improve your physical, spiritual, and mental health. My role as fitness professional is to lead people towards the achievement of active living, healthy eating, and the development of inner strength and peace within themselves. I believe that inner strength is the foundation of a strong mindset and body. Therefore, by helping people develop such strength, I will also help them regain and develop many potential attributes including: self-respect, self-confidence, a positive mindset, the ability to be fearless, and take more challenges in life. All these are based on realistic goals and long-lasting habits.